About The Artist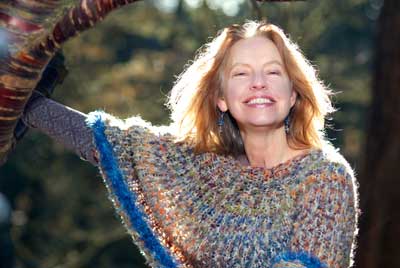 I find a deep sense of serenity in the natural world, and so, as an artist, I attempt to convey that sense of joy and tranquility which is so often elusive in our fast-moving electronic culture. That many of my works are displayed in healing environments leads me to believe that I have captured some of that essence and that my art goes forth to soothe the world.
I live in the Willamette Valley which is rich with diverse terrain supporting what may be the widest variety of crops in the world. Consequently there is much in my field of vision to inspire the landscapes I create. Over the years, I have also traveled to Italy and Hawaii to draw some of the world's most beautiful landscapes and have studied traditional Balinese painting in Bali, Indonesia.
Imbued at once with both a lush sensuality and an edgy geometry, my colorful, graphic landscapes hearken back to the 1930s' midwestern Regionalist style of such artists as Thomas Hart Benton and Grant Wood and has even been likened to "Grant Wood on acid." In my use of color, I identify with the early 1900s European artists who were dubbed the Fauves (wild beasts) and whose leading member was Henri Matisse. Lately I have been inspired by artists Gustav Klimt, Georgia O'Keeffe, Emily Carr, Paul Gauguin, Henri Rousseau, Wanda Ga'g and Japanese wood-block prints.
Training
Jane Aukshunas holds a Bachelors of Fine Arts from Massachusetts College of Art, Boston, Massachusetts, with additional studies of Japanese art at Harvard University and fashion design at Parsons School of Design, New York City. Jane has also studied traditional Balinese painting in Indonesia. She has developed her current oil pastel techniques through experimentation in her studio.
Education
BFA, Massachusetts College of Art, Boston, MA,  1980
Additional studies at:
Parsons School of Design, New York City, NY
Harvard University, Cambridge, MA
Exhibitions and Awards
Portland Art Museum Rental Gallery, Portland, OR, 1996-present
Governor's Mansion, Salem, OR 2015
Salem Art Fair & Festival, Salem, OR, 2002-2014
Art in the Pearl, Portland, OR, 2000-2003, 2008-2014
Sausalito Arts Festival, Sausalito, CA, 2001, 2007
Corvallis Fall Festival Poster, Corvallis, OR 2006
Salem Art Fair and Festival poster, Salem, OR 2004
Beaverton Visual Chronicles III, Beaverton, OR 2000
Christmas Wrap – Fiber Art installation, Harvard Square, Cambridge, MA, 1986
Most Artistic Approach to Fashion Design, Massachusetts College of Art, Boston, MA 1979
Betsey Johnson Designer Award, Hartford, CT, 1964
Collections
Willamette Valley Vineyards, Turner, OR
Elk Cove Winery, Gaston, OR
Allison Inn & Spa, Newberg, OR
Mayo Clinic, Rochester, MN
Oregon Dental Society, Portland, OR
Legacy Emanual Children's Hospital, Portland, OR
Pacific University, Hillsboro, OR
Silverton Hospital Birthing Center, Silverton, OR
Salem Memorial Hospital, Salem, OR
Mid-Valley Counseling Center, Salem, OR
Northwest Health Foundation, Portland, OR
Northwest Cancer Specialists, Vancouver, WA
David Evans & Associates, Salem, OR
Yakima Valley Farmworker's Clinic, Yakima, WA